Governor Patrick Announces Preparations for Hurricane Sandy
Posted by
jcashman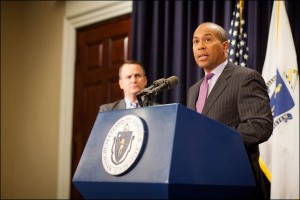 Governor Deval Patrick today met with Lieutenant Governor Timothy Murray and his cabinet secretaries to discuss preparations for the potential impact of Hurricane Sandy on Massachusetts and announced several steps the state has already taken in anticipation of the storm.
The Massachusetts Emergency Management Agency (MEMA) is actively monitoring the storm, coordinating with local public safety officials and conducting pre-incident planning with select Emergency Support Functions. The Department of Public Utilities (DPU) has been in frequent communication with the utility companies, and the Governor reported this morning that each utility company has submitted an emergency response plan and the DPU is reviewing these plans to make sure they are consistent with the expectations laid out by the Administration.
"We have been in close contact with the national weather service, and are coordinating with MEMA, all of our state agencies and the utility companies to make sure we are ready for Hurricane Sandy's potential impact here in the Commonwealth," said Governor Patrick.
Following last year's storms, DPU met with the utilities and relayed clear expectations for the companies regarding emergency events, specifically, that the companies (1) be adequately and sufficiently prepared to restore service, and (2) restore service to customers in a safe and reasonably prompt manner during an emergency event. These two broad requirements include making sure that enough crews are activated, tree removal plans to allow downed wires to be fixed are in place, that a vigorous communications plan is in place between the company and its customers, and municipal and safety officials is activated, and that estimated times of restoration are accurately reported. In response to the meetings, the companies made a number of enhancements to their storm preparation processes and emergency response plans.
The Massachusetts Department of Transportation Highway maintenance crews are clearing catch basins, maintaining chain saws, preparing vehicles and reaching out to contractors on emergency contracts including fuel distributors, catch basin repair contractors and tree contractors.
The MBTA is preparing for the arrival of adverse conditions on Monday with plans to deploy extra personnel and equipment throughout the system. The MBTA will make every effort to prevent any disruptions in service; however, public safety will be paramount when making these decisions. Work crews will begin mobilizing on Sunday evening, as preparations are made for any storm-related issues that may emerge. For MBTA service updates or alerts, customers are urged to visit MBTA.com or follow the MBTA on Twitter @mbtaGM.
MEMA is encouraging residents to take the following steps in preparation for the storm:
·         Make sure you have a well-stocked Family Disaster Kit in the event you lose power or are isolated for a number of days.
·         Trim back trees and shrubbery around your home. Remove diseased or damaged tree limbs that could be blown down, causing damage, during a storm.
·         Clear clogged rain gutters. This storm brings the potential for torrential rain. Providing clear drainage will help prevent misdirected flooding.
·         Bring in outdoor items such as lawn furniture, trash barrels, hanging plants, toys and awnings that can be broken or picked up by strong winds and used as a missile.
·         Make sure storage sheds, children's playhouses or other outbuildings are securely anchored, either to a permanent foundation or with straps and ground anchors.
·         Elevate articles in your basement that could be damaged from even minor flooding.
·         Make temporary plywood covers to protect windows and sliding doors. Drill holes for screws or lag bolts in each cover and around each window. Note: Taping of windows does not prevent them from breaking.
·         Keep you vehicles fully fuelled.
·         Have a certain amount of cash available. If power is lost, ATMs may not be working.
·         Make a record of your personal property. Keep an itemized list of your furniture, clothing and valuables to assist adjusters in case of a claim. Back it up with photographs or video.
·         Protect your insurance policies and other important documents in a secure place like a safe deposit box or a watertight box. Many people back up important documents online.
·         Learn where gas pilots and water mains are located and how to safely shut off all utilities.
·         Lock doors and windows to ensure that they are closed tight to help protect against strong winds and rain.
·         Boat owners, who plan on taking their vessel out of the water soon, should consider doing so this weekend.
·         Think about and plan for pets' needs as well.

·         Download the free ping4alert! app to your Smartphone to receive important weather alerts and messages from MEMA.  Easy instructions are available at www.mass.gov/mema/mobileapp.
For the latest updates, visit www.mass.gov or call 211.
Related posts:
Short URL: http://www.newenglandpost.com/?p=9593

Posted by
jcashman
on Oct 26 2012. Filed under
Featured - For home page featured article
,
General
. You can follow any responses to this entry through the
RSS 2.0
. You can leave a response or trackback to this entry