How to Get Your Insurance Questions Answered Regarding Storm Damage
Posted by
jcashman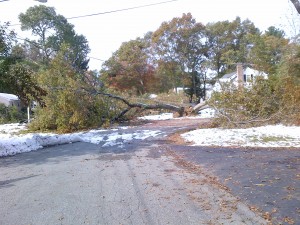 Insurance Commissioner Joseph G. Murphy and Division of Insurance staff are holding a series of "Insurance Awareness" events across the state in an effort to answer consumer insurance questions and to remind the public that it is important to regularly check insurance policies.
"Hurricane Sandy showed us just how swiftly catastrophic weather can strike and how even a glancing blow from a major storm can cause widespread damage," said Barbara Anthony, Undersecretary of the Office of Consumer Affairs and Business Regulation. "Outreach events like this are one of the best ways we can reach consumers with the information they need to be prepared for whatever this winter season may bring."
Staff will be distributing brochures encouraging consumers to "Know What You Have and Learn What You Need" when it comes to insurance coverage. Consumers are encouraged to ask staff questions they may have in the aftermath of Hurricane Sandy, about their insurance coverage, or any other insurance related questions.
"Last year, four unexpected weather catastrophes in the Commonwealth resulted in millions of dollars of damages to homes, businesses, and vehicles. This year we've already experienced one catastrophic storm," said Commissioner Joseph G. Murphy. "We want to make sure that consumers know they have the proper insurance coverage before they've been affected."
Commissioner Murphy and staff held their first awareness event at a busy Union Station in Worcester last month, where they answered numerous questions and spoke with consumers at the end of their commute. The Division has scheduled two additional awareness events:
SPRINGFIELD:                                                       BOSTON:
Tuesday, November 13                                               Tuesday, November 27
11:00 a.m. – 1:00 p.m.                                                4:00 p.m. – 6:30 p.m.
Court Square*                                                             South Station
Intersection of Main Street and State Street              700 Atlantic Ave.
Springfield, MA 01103                                               Boston, MA 02210
*In the event of rain, the Springfield event will be held inside Springfield City Hall.
Consumers with insurance related questions can reach the Division of Insurance's Consumer Hotline at 877-563-4467 and the Consumer Affairs Hotline at 888-283-3757.
The Division of Insurance is an agency within the Office of Consumer Affairs and Business Regulation. Find DoI online atwww.mass.gov/doi, or follow the Division on Twitter @MassDOI. OCABR can be found online at www.mass.gov/consumer, itsConsumer Connections Blog and on Twitter @Mass_Consumer.
Related posts:
Short URL: http://www.newenglandpost.com/?p=9631

Posted by
jcashman
on Nov 10 2012. Filed under
Business
,
Featured - For home page featured article
. You can follow any responses to this entry through the
RSS 2.0
. You can leave a response or trackback to this entry