MassCEC Wins National Award for Solar Hot Water Pilot Program
Posted by
jcashman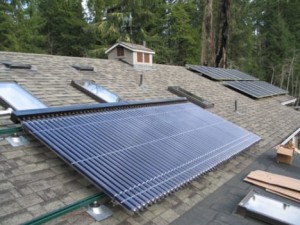 The Massachusetts Clean Energy Center (MassCEC) this week received one of the Clean Energy States Alliance's (CESA) seven 2012 State Leadership in Clean Energy awards for MassCEC's Commonwealth Solar Hot Water Pilot Program.
The program offered rebates on a first-come, first-served basis to residential and
commercial property-owners who install solar panels to power water and space heating in their homes or businesses.
MassCEC Project Manager Christie Howe accepted the award Monday evening at CESA's fall meeting in Albany, New York.
"It's an honor to receive this award for our innovative Commonwealth Solar Hot Water Program, which has helped 320 businesses and homeowners cut their energy costs by using the sun to heat water," said MassCEC CEO Alicia Barton McDevitt, who also attended the meeting. "We hope our approach to supporting thermal performance-monitoring will serve as a national model."
The Commonwealth Solar Hot Water Program provides rebates of up to 25 percent of total system costs, up to $3,500 for residential systems or up to $50,000 for commercial-scale systems.
During the pilot program, MassCEC distributed $535,000 in rebates, which funded 320 residential and commercial-scale systems.
The pilot program also took a nation-leading approach towards incentivizing the installation of performance monitoring equipment for solar hot water systems.
Residents were given the option of installing the monitoring equipment, which tracks the system's performance and alerts to disruptions in service, while commercial projects were required to install the equipment.
Both residential and commercial clients received an additional rebate to cover the costs of the performance monitoring equipment.
Solar hot water systems generate thermal energy from sunlight to heat water through roof-mounted solar collectors. Heating water accounts for roughly 20 percent of all home energy consumption, and installing a solar water heater can save between 50 and 75 percent of those costs, reducing the need for traditional fossil fuel sources of energy.
To date, projects installed through the program have produced hot water equal to the amount used in 150 Massachusetts homes. MassCEC previously won CESA State Leaders in Clean Energy awards for its Community Scale Wind Initiative in 2011 and its Solar Energy for Green Affordable Housing program in 2009.
"Despite challenging economic conditions and uncertainty over continuing federal support, the SLICE Award-winning state programs have demonstrated innovation, supported emerging technologies, and advanced clean energy markets," said Mark Sinclair, Executive Director of CESA. "After a decade of experience working with clean energy funds across the country, CESA feels confident that these programs represent the best of what's out there today."
About MassCEC
Created by the Green Jobs Act of 2008, the Massachusetts Clean Energy Center (MassCEC) has as its mission to foster the growth of the Massachusetts clean energy industry by providing seed grants to companies, universities, and nonprofit organizations; funding job training and workforce development programs; and, as home of the Massachusetts Renewable Energy Trust, supporting the installation of renewable energy projects throughout the state.
Related posts:
Short URL: http://www.newenglandpost.com/?p=9609

Posted by
jcashman
on Oct 24 2012. Filed under
Featured - For home page featured article
,
Technology
. You can follow any responses to this entry through the
RSS 2.0
. You can leave a response or trackback to this entry