100s of MA Residents Take Advantage of the Solar Pilot Program
Posted by
jcashman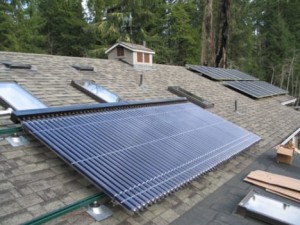 The Massachusetts Clean Energy Center (MassCEC) announced that 162 residents or businesses contracted to install solar photovoltaic (PV) systems through the Solarize Massachusetts pilot, which launched in May 2011. These residents will install a total of 829 kilowatts (kW) of solar in the pilot towns of Harvard, Hatfield, Scituate, and Winchester.
"Solar power is the fastest growing segment of the Massachusetts renewable energy industry and continuing that growth is a cornerstone of Governor Patrick's clean energy agenda, including our nation-leading Clean Energy and Climate Plan for 2020," said Energy and Environmental Affairs Secretary Richard K. Sullivan Jr., who chairs the MassCEC board. "Already named "Green Communities" by the Department of Energy Resources, these four towns have taken clean energy leadership a step further – demonstrating the power of using community connections to catalyze wider adoption of solar energy and greater energy independence."
Solar power has expanded dramatically since Governor Patrick took office in 2007 – growing from just 3.5 megawatts (MW) installed statewide then to nearly 100 MW now either installed or under contract today.  This growth is supporting a growing solar power industry. The number of solar installers operating in Massachusetts has grown from 50 in 2007 to more than 250 today. Overall, clean energy jobs are growing in Massachusetts according to the 2011 Massachusetts Clean Energy Industry Report, which finds that clean energy jobs grew 6.7 percent between July 2010 and July 2011. Solar energy is the most prominent renewable energy technology area for Massachusetts clean energy companies, with more than two in three renewable energy employers working with solar energy technologies.
Below are the results for each Solarize Massachusetts town:
75 solar PV systems for 402.56 kW
22 solar PV systems for 147 kW
30 solar PV systems for 115.2 kW
35 solar PV systems 164.6 kW
Before the launch of Solarize Mass Harvard had 13 residential systems installed, Hatfield had five residential systems installed, Winchester had four residential systems installed and Scituate had seven residential systems installed. The solar capacity installed through Solarize Massachusetts will save 651 metric tons of CO2 annually. During their lifetimes, these PV systems will save over 13,000 metric tons of CO2, equivalent to the annual emissions of more than 2,500 cars.
"These communities saw the opportunity in this exciting new model and led the way, demonstrating once again what can happen at the grassroots level to achieve the Commonwealth's clean energy goals," said Massachusetts Department of Energy Resources Commissioner Mark Sylvia.  "Residents are choosing PV systems in their homes not only to reduce their carbon footprint, but also because it made good economic sense.  Solarize Mass and the results achieved are a true example of how we are going to create a cleaner energy future for Massachusetts – community by community."
"The Solarize Massachusetts pilot has helped residents and business owners in these four towns adopt solar energy as a viable way to manage energy costs and reduce dependence on fossil fuels while allowing us to teach more people about the benefits of clean energy," said MassCEC Chief Executive Officer Patrick Cloney. "I congratulate Harvard, Hatfield, Scituate and Winchester in their achievements in making their town a strong part of our clean energy future."
As part of the Solarize Mass pilot MassCEC issued a Request for Proposals (RFP) for bulk purchasing business models from solar integrators in which installation costs are based on a tiered structure that provide lower costs with increased capacity of solar installed within the community. New England Breeze was selected as the Solarize installer for Harvard, Munro Distributing Company, Inc. was selected as the Solarize installer for Scituate, and Real Goods Solar, formerly Alteris Renewables, Inc was selected as the Solarize installer for Hatfield and Winchester.
"I am extremely proud to have been part of Harvard's enthusiastic response to Solarize. The community produced a resounding success and a legacy that will extend beyond the 75 systems purchased under the program," said Solarize Mass Community Coordinator in Harvard Jim Elkind. "The community education and enthusiasm from Solarize have catalyzed Harvard residents to create a community solar garden for those that could not Solarize. It's tremendous that the Solarize program, an unanticipated benefit of having become a Green Community last year, will benefit so many residents for years to come."
"I'm delighted that thirty Scituate households were able to take advantage of this program," said Scituate Town Planner Laura Harbottle.
"Hatfield is pleased to have been selected to be a part of this important Solarize Pilot Program sponsored by the MassCEC that will help pioneer the way for all Massachusetts residents and business owners to invest in Solar electric power," said Hatfield Energy Committee Chair Christopher Smith. "The program has shown that even for a small town like Hatfield with a part time and volunteer energy committee, no media outreach, other than local access TV, we could attract an enormous amount of interest from townspeople. When we began in May of this year we thought we would be happy to sign up only 50 kW of mostly small systems, but when we drove home the message of group buying and the many incentives, both state and federal, the final number was almost 148 kW — nearly triple our projection. Hatfield applauds the Governor's continued support and investment in alternative and energy conservation."
"Winchester homeowners, businesses and government are lowering their energy spending and carbon emissions and we know that solar power will play an important part in achieving their goals," said Winchester Board of Selectman member Tom Howley. "Participating in the Solarize Massachusetts program has jump started our efforts to help our community take advantage of solar technology. With 35 new installations Winchester has taken a significant step towards becoming a solar community."
"New England Breeze Solar is pleased to have been part of this unprecedented success," said New England Breeze President Mark Durrenberger. "The community residents responded enthusiastically to the program and appreciated our responsiveness and willingness to answer questions.  We hope to see the success of this program replicated in communities and organizations across the state."
"We were very encouraged from the results of the Solarize Massachusetts pilot program. The key element was the proactive approach the local organizations did to drive the promotion of the program throughout their community," said Jim Oliva, Director of Sales Northeast region at Real Goods Solar, formerly Alteris Renewables. "As momentum built and people signed up for their solar projects, you could see the communities enthusiasm spread. Also, for a pilot, it was great to see that there were very few bugs to work out throughout the program. MassCEC did a commendable job managing it. We hope to see this program evolve to more communities in the near future."
"We are grateful for the opportunity to participate in the Solarize Massachusetts pilot program," said Glenn Maltais, Vice President Market Development and Sustainability at Munro Distributing Company, Inc. "By all measures, this program was a success and a great example of what can be accomplished when public and private sectors work together. Hopefully this is just the first step for the Solarize Mass initiative."
"Solarize Mass is exactly the type of innovative programming the CEC was created to develop and implement. It's a program that is good for the economy, the community and the environment. I look forward to seeing the program replicated across Massachusetts," said Senate Chair of the Joint Committee on Telecommunications, Utilities and Energy.
Senator Benjamin B. Downing.
"The Solarize Massachusetts program has been a great success in the town of Harvard, with local residents and businesses launching 75 new solarization projects in a short amount of time. The community of Harvard has been a leader in environmental conservation, and the town as a whole has really embraced renewable energy programs as the way of the future," said State Senator Jamie Eldridge.
"The Solarize Massachusetts pilot program has been a great success for Winchester and for the Commonwealth as a whole," said State Senator Patricia Jehlen. "Hopefully this program will be expanded to other parts of Massachusetts so that we can continue our transition to cleaner energy sources."
"It's great to see so many residents of Hatfield taking a leading role in helping bring about a clean energy future for our Commonwealth," State Senator Stan Rosenberg.
"Solarize Mass in Harvard exemplifies how state agencies, private organizations, and communities can come together to create a successful program that will benefit individuals and the community as a whole," said State Representative Jennifer Benson. "These 75 PV installations will help lower residents' utility bills, increase the state's use of clean energy and create jobs in the community. I am pleased that Harvard has been at the forefront of this effort and hope that they will serve as a model for other towns."
"I am thrilled that the residents of Scituate have been so enthusiastic with their commitment to green energy," said State Representative Garrett Bradley.  "I hope that this success will develop solar energy programs across the Commonwealth."
"Scituate has long been a leader in implementing clean and efficient energy sources, and I'm proud to say that this pilot program has been a great fit.  That 30 of our residents are taking advantage by installing these solar panels underscores the Town's commitment to the environment and its future here in the commonwealth of Massachusetts as a clean energy leader," said State Representative Jim Cantwell.
"It's great to see that one of the outcomes of the passage of the Green Jobs Act in 2008 is residents of Hatfield promoting job creation and green energy production in their own households," State Representative Peter V. Kocot.
"It has been great to see the enthusiastic response from Winchester residents and businesses who have seized this opportunity to install solar PV panels that will reduce their electricity bills and lower greenhouse gas emissions," said State Representative Jason Lewis.
Solarize Massachusetts was launched in four pilot communities in Massachusetts this spring to encourage residents and business owners to adopt solar photovoltaic (PV) technology. MassCEC, in partnership with the Green Communities Division of the Massachusetts Department of Energy Resources (DOER) selected the communities of Harvard, Hatfield, Scituate, and Winchester to participate in the model, which leverages education, grassroots marketing, and group purchasing to accelerate the adoption of solar PV. MassCEC has provided education and marketing support to help the four communities implement a community-wide solar PV program for residential and small-scale commercial projects, and deploy bulk-purchasing business model to reduce costs.
About MassCEC
Created by the Green Jobs Act of 2008, the Massachusetts Clean Energy Center (MassCEC) is dedicated to accelerating the success of clean energy technologies, companies and projects in the Commonwealth—while creating high-quality jobs and long-term economic growth for the people of Massachusetts. MassCEC is a partner, clearinghouse and connector for people in the clean energy sector, making direct investments in clean energy companies, building a strong clean energy workforce, and supporting responsibly sited renewable energy projects across the Commonwealth. MassCEC works with the entire clean energy community in Massachusetts to propel promising technologies from the drawing board to the global marketplace. Join the Innovation Revolution at http://www.masscec.com/
Related posts:
Short URL: http://www.newenglandpost.com/?p=7920

Posted by
jcashman
on Nov 16 2011. Filed under
Featured - For home page featured article
,
General
. You can follow any responses to this entry through the
RSS 2.0
. You can leave a response or trackback to this entry