Patagonia Urged Customers Not to Shop On Cyber Monday
Posted by
jcashman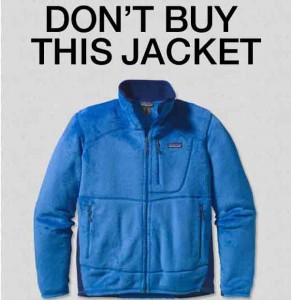 Like most people, my inbox by about 10am on Monday was inundated with Cyber Monday deals. Surprisingly, one company didn't want my business. Sadly, it was one of the companies I wanted to buy from. Patagonia sent an email out with the subject line: DON'T BUY THIS JACKET.
At first, I thought a coat had been recalled so I clicked the link out of curiousity, wondering why a coat would be recalled. To my surprise I found this letter from Patagonia:
"Today is Cyber Monday. It will likely be the biggest online shopping day ever. Cyber Monday was created by the National Retail Federation in 2005 to focus media and public attention on online shopping. But Cyber Monday, and the culture of consumption it reflects, puts the economy of natural systems that support all life firmly in the red. We're now using the resources of one-and-a-half planets on our one and only planet.
Because Patagonia wants to be in business for a good long time – and leave a world inhabitable for our kids – we want to do the opposite of every other business today. We ask you to buy less and to reflect before you spend a dime on this jacket or anything else.
Environmental bankruptcy, as with corporate bankruptcy, can happen very slowly, then all of a sudden. This is what we face unless we slow down, then reverse the damage. We're running short on fresh water, topsoil, fisheries, wetlands – all our planet's natural systems and resources that support business, and life, including our own.
The environmental cost of everything we make is astonishing. Consider the R2® Jacket shown, one of our best sellers. To make it required 135 liters of water, enough to meet the daily needs (three glasses a day) of 45 people. Its journey from its origin as 60% recycled polyester to our Reno warehouse generated nearly 20 pounds of carbon dioxide, 24 times the weight of the finished product. This jacket left behind, on its way to Reno, two-thirds its weight in waste.
And this is a 60% recycled polyester jacket, knit and sewn to a high standard; it is exceptionally durable, so you won't have to replace it as often. And when it comes to the end of its useful life we'll take it back to recycle into a product of equal value. But, as is true of all the things we can make and you can buy, this jacket comes with an environmental cost higher than its price.
There is much to be done and plenty for us all to do. Don't buy what you don't need. Think twice before you buy anything. Go to patagonia.com/CommonThreads, take the Common Threads Initiative pledge and join us in the fifth "R," to reimagine a world where we take only what nature can replace.
Take the pledge
I didn't buy a coat for a Christmas gift. I did like their idea, but like most consumers I was only out for deal on Monday.
Related posts:
Short URL: http://www.newenglandpost.com/?p=8183

Posted by
jcashman
on Nov 30 2011. Filed under
Featured - For home page featured article
,
General
. You can follow any responses to this entry through the
RSS 2.0
. You can leave a response or trackback to this entry