Mom's Corner: 12 Most Important Fruits/Vegetables to Buy Organic
Posted by
Erica Shevlin
Tip of the Week: 12 Most Important Fruits/Vegetables to Buy Organic
Environmental Working Group (EWG) identified 12 fruits and vegetables that are most likely to have higher trace amounts of pesticides.
Apples, Celery, Strawberries, Peaches, Spinach, Nectarines, Grapes, Bell Peppers, Potatoes, Blueberries, Lettuce and Kale/Collard Greens.
They also have identified 15 fruits and vegetables that are least likely to be contaminated with pesticide residue.
Onions, Avocado, Sweet Corn, Pineapple, Mango, Sweet Peas, Asparagus, Kiwi, Cabbage, Eggplant, Cantaloupe, Watermelon, Grapefruit, Sweet Potato and Honeydew Melon.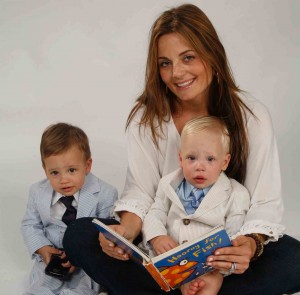 Foreword:
In the fall and winter I find it hard to find organic fruit. The fruit that's available is hard as a rock and flavorless. I recently read an article about how frozen fruit and vegetables can be more nutrient rich in some cases because the producer allows them to ripen on the vine instead of off the vine.
I decided to try using frozen organic cut mango and peach slices in my oatmeal and it was delicious! When you open the bag of peaches you get hit with this intoxicating smell. I imagine that this is what a Georgia peach smells like in the summer.
You might be thinking why use mango and peaches? I first tried berries for this recipe, but I didn't like it at all. The blueberries dissolved in the oatmeal, making it purple and a major mess with the kids. The strawberries lost their flavor and became lifeless. I add berries after cooking my oatmeal when I find fresh organic ones. Enjoy!
Recipe: Peach and Mango Oatmeal
(Note: This recipe feeds 1 hungry Mom and two hungry little boys)
You will need:
1/2 cup of Peaches
1/2 cup of Mango
1 cup of Water (or enough water to just cover the fruit)
1/2 bag of John McCann's Irish Oatmeal (the kind that cooks in 3 minutes)
1/2 cup of Whole Milk
1 teaspoon of Vanilla Extract
2 tablespoons of Flax Seed Oil
Maple Syrup to taste
Take a medium size pot and add your fruit. Then place the pot under your faucet and fill it with water, so that the fruit is just covered. Place pot on the stove on medium/high heat. You want to defrost the fruit in the pan and soften it a bit as well. This should take about 7 minutes. Add the vanilla extract and then the oatmeal. Mix the oatmeal with the fruit and then add the milk and mix again. Cook for another 2 minutes. If you find the consistency too thick then add more milk, if you find it too soupy then just cook a little longer. Dish out the oatmeal into bowls. The frozen fruit is usually cut too big, so take a fork and knife and run it through the oatmeal. Pour a little flax seed oil and maple syrup over the top of each bowl of oatmeal. Enjoy!
Related posts:
Short URL: http://www.newenglandpost.com/?p=7819