Mom's Corner: Cooking with Kale and a Recipe for Tasty, Veggie-Loaded Scrambled Eggs
Posted by
Erica Shevlin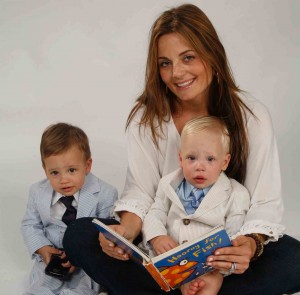 Tip of the Week:
Hail to Kale!
A lot of us know that kale is very nutritious (high in beta carotene, calcium and vitamins K and C), but somehow it doesn't seem to find its way into our lives easily.  For whatever reason, I reserve it for people that prescribe to a vegan or raw food diet. Since having children, however, I have become more open-minded about this green leafy vegetable.  I have made a lifelong commitment to including kale in my family's diet.
Here's my trick:
Every week I buy a head of green curly kale at the market. When you are in the mood or have the time, prep the kale. Pull the leaves from the stalks, wash them and chop them very fine like parsley. Store the kale in a damp napkin inside a plastic bag. Throughout the week, sprinkle the kale into anything you can think of: eggs, soups, turkey burgers and even breadcrumbs! Click here to learn more about kale and why I am so crazy about it.
Recipe of the Week
Foreword:
Scrambled eggs are a great way to get more veggies into your little one's tummy.  I never got any resistance with veggies in the scramble.  I started doing eggs like this for my boys at about 11 months. If your children like scrambled eggs, but are not used to seeing the veggies, you might want to add a new veggie every third time you make them. Play it by ear; you know your little one(s) best.  Don't be scared of the kale, it literally gets lost in the dish. It also adds this amazing spongy texture to the eggs that is so delicious.
There are a few things that really make a HUGE difference with scrambled eggs.
#1 Plugra European Unsalted Butter. It REALLY makes a difference. I buy it at Whole Foods. It's not where the other butter is usually located, so ask someone where you can find it. Make sure it's UNSALTED. I cook almost everything using this butter. It is so delicious; you will never want to use anything else again.
#2 Leeks! Eggs and leeks are best friends. Onions are a waste of time. Bring in the big guns.
#3 Once you add the eggs to your scramble, cook low and slow; it matters.
Scrambled Eggs with Kale, Red Pepper and Leek
Don't get too caught up in the quantities here. I am not one for measurements (hence why I HATE to bake). I am usually cooking eggs for my two boys and myself (although my dog Wilson sometimes gets a few bites too). Adjust this recipe to the number of people or kids you are feeding.  I also add Applegate's herb sliced turkey or nitrate-free deli ham to this, depending on my mood.
You will need:
5 eggs
Splash of whole milk
¼ cup of grated or finely chopped 3- to 5-year-old-aged white cheddar (or whatever cheddar you want, but the aged ones are amazing and really add a depth of flavor!)
1 red pepper, chopped small (I use about ¾ of it)
2 tablespoons of butter
1 tablespoon of olive oil
2 handfuls of chopped green curly kale (chop it like you would parsley, very fine). You can also use fresh spinach here instead.
½ of a leek, chopped
salt and pepper
Cooking Instructions:
Heat a large skillet on medium high heat. I have to stop here for a quick second. I only use about three pans. The one I use the most is what my aunt calls "The Magic Pan"; magic because somehow it is the perfect pan for cooking almost everything. It's by Le Creuset.  Add your butter and oil. Toss in your leek and add a few grinds of fresh pepper and a small pinch of salt and let that cook for about 4 minutes. Add your red peppers and kale. Cook for another 4 minutes. Turn down the heat to low medium heat. Add the eggs with milk and cheese. The eggs need your 100 percent attention now. Keep moving your eggs around while they are cooking. They should take about 5 minutes to cook. I serve these eggs on a piece of buttered whole wheat toast for myself.  My kids prefer bread to toast so I split a piece of bread between the two of them.
Related posts:
Short URL: http://www.newenglandpost.com/?p=6404