Storm Socks New Hampshire, Knocks out Power to 285,000
Posted by
jcashman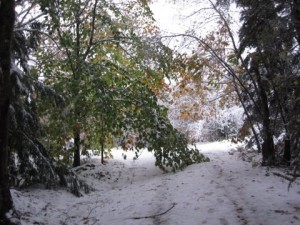 CONCORD, N.H. (AP) — Officials said Sunday that it could be a week before power is restored to all of the tens of thousands of people waking up in the dark because of an early-season winter storm that socked New Hampshire.
The National Weather Service reported nearly two feet of snow in Concord and other parts of the state. About 285,000 customers from four utilities were without power, mostly in the southern part of the state, according to the New Hampshire Department of Public Safety.
"This is a huge number for this state," said department spokesman Jim Van Dongen.
He estimated it will likely be at least a few days and could be a week before people get power back. In the meantime, they should be careful when using generators and avoid bringing grills and other items meant for outdoor use inside.
"People sometimes don't do very smart things if they're out of power for a long time," he said.
Utility officials said the hardest hit areas appear to be the Interstate 93 and Route 3 corridors from Manchester to the Massachusetts border.
By 8 a.m., Dave Whitcher of C.W. Whitcher and Sons Property Management had already been on the job for eight hours, clearing parking lots of dozens of businesses in and around Concord.
"It was a bit of a surprise, the amount and how heavy it was," he said. "We should've probably come out and got a little earlier start, but we did alright."
After spending Sunday plowing and shoveling, his crews will be back out Monday morning salting sidewalks and walkways.
He said his company wasn't quite ready for winter — some sanding equipment hadn't been prepped yet.
"We're behind the eight-ball. This is a wake up call," he said. "We did alright, but it caught us by surprise."
Holding up his shovel, he said, "Me and this guy are going to get to know each other real well today."
Copyright 2011 The Associated Press.
Related posts:
Short URL: http://www.newenglandpost.com/?p=6845