New Hampshire Wind Power Project Receives DOE Financing; Brings Needed Jobs
Posted by
Noelle Swan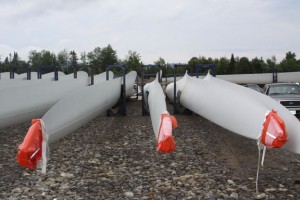 The largest wind farm in New Hampshire just got a boost from the Federal Government.
On Friday, U.S. Energy Secretary Stephen Chu announced that the Granite Reliable Wind Power Project would receive a $168.9 million Federal loan to help finance a 99 megawatt (MW) wind farm in Coös County, in rural northern New Hampshire.
Andrew Willis, a spokesman for Brookfield Renewable Power, the Canadian parent company of Granite Wind, told New England Post that the project has brought 200 construction jobs to the area since it broke ground last February. Willis said the wind farm is expected to go online by the end of this year and produce enough electricity to power 20,000 homes. "This renewable source of power will offset 124,000 metric tons of carbon dioxide," he added.
The project brings New Hampshire one step closer to the goal set by Governor John Lynch's 25 by '25 Initiative which calls for 25% of the state's electricity to be derived from renewable resources by 2025. According to 2004 data, renewable contributions represented 10% of the total electricity for the state.
The Granite Wind project will consist of 33 wind turbines in a section of the Bayroot Parcel. The majority of the turbines are being erected in Millsfield, but a few are being installed further north, in Dixville. The scope of this project is small in comparison to larger wind farms in western states. Google has recently invested in an 845 MW project and Nevada is considering a 990 MW farm that would be the nation's largest.
However, Granite Wind brings more to Coös County than electricity.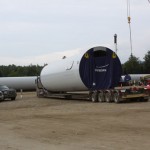 "Today's investment brings new jobs to New Hampshire and supports the commercial-scale deployment of clean energy technologies in the U.S.," said Secretary Chu in a DOE press release. "America's wind energy resources are abundant, clean and mostly untapped. Continued investments in this source of emissions-free energy will strengthen the economy, create good American jobs and help the nation compete with other countries that are quickly scaling up wind power generation."
The project "represents an economic bright spot in an area of New Hampshire … that has been struggling," Ross Gittell, a professor of management at the University of New Hampshire, wrote in his 2009 analysis of Granite Wind's potential economic impacts. According to recent census data, the median income for the county is a third lower than the state median and 14.5% of the county lives below the poverty line.
Resident of nearby Jefferson, Kathlyn Keene told the NEPost, "that is just a farce." Keene argued that while some local loggers have gained work in this process, actual installation of the turbines required skilled technicians from out of state, not local construction workers. Keene further charged that the wind farm desecrates "the last unfragmented forest for New Hampshire," sacrificing watersheds, mountainsides and wildlife habitat. When she saw pictures of the newly erected turbine in a local newspaper, she said "I got a tear in my eye because I know what they're going to do to the wildlife."
Short URL: http://www.newenglandpost.com/?p=4434

Posted by
Noelle Swan
on Sep 28 2011. Filed under
Featured - For home page featured article
,
General
. You can follow any responses to this entry through the
RSS 2.0
. You can leave a response or trackback to this entry