Report Reveals How Prepared Mass. Students are for College
Posted by
jcashman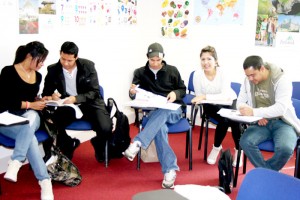 The Patrick-Murray Administration announced that Massachusetts students continue to outperform the nation on the ACT test, an annual predictive indicator of college and career readiness for many high school graduates.
According to this year's ACT results, Massachusetts 2012 graduates had an average composite score of 24.1 out of a possible 36, higher than five years ago (23.6) and similar to last year's result (24.2). The national average was 21.1. In addition, 44 percent of Massachusetts students met all four ACT College Readiness Benchmark scores, up from last year (43 percent) and higher than the national average (25 percent).
"Today's news is confirmation of the great things our students and educators can achieve," said Governor Deval Patrick. "We are proud of these results and will continue working to ensure all of our students are prepared for success in college and career."
Statewide, 15,398 public and private school students, or 23 percent of the 2012 graduating class, took the ACT test during high school. From 2008-2012, the number of ACT test-taking graduates in Massachusetts has grown by 23.5 percent.
"I am pleased to see the growth in student participation and performance on the ACT over the past five years," said Elementary and Secondary Education Commissioner Mitchell Chester. "At the same time, we need to see more students meet college readiness benchmarks. The Commonwealth's strategy to adopt college and career ready standards and align those standards to academic achievement is essential to providing students with multiple pathways to success after high school.
"Today's results are encouraging, as more and more of our students are taking steps toward college and career readiness," said Education Secretary Paul Reville. "We still have a long way to go in truly preparing all of our young people for success in the classroom and beyond and are more committed to that work now than ever before."
In June 2012, a task force of the state's leading educators, employers, and academic labor experts issued a report that included a set of recommendations to ensure that every student graduates from high school ready to pursue the next steps on the path to a successful career or post-secondary education. Those recommendations included the following:
Incorporate Career Readiness into Massachusetts's Recommended Course of Study
Strengthen School, Employer, Higher Education, and Community Partnerships
Improve the Utilization of School Counselors in Deployment of Career Readiness Education
Incentivize Schools to Create and Demonstrate Comprehensive Career Readiness Strategies
Promote the Importance of College and Career Readiness for All Students
Explicitly Identify Personnel Responsible for Effectively Executing the Task Force Recommendations
Commissioner Chester will report proposed next steps to the Board of Elementary and Secondary Education later this fall.
In other ACT results:
On the four subject area tests, Massachusetts had the highest percent of 2012 graduates meeting the ACT benchmark in Math (73 percent); tied for first in English (86 percent) with Connecticut; was second in Reading (72 percent) behind only New Hampshire (73 percent); and tied for second in Science (48 percent) with Connecticut, trailing only New Hampshire (49 percent).
The majority of Massachusetts students continue to take the SAT. For instance, 84 percent of Massachusetts public school students in the class of 2011 participated in the SAT. However, participation rates on the ACT among Massachusetts public and private school graduates continue to rise over time, increasing from 17 percent of graduates in 2008 to 22 percent in 2011, to 23 percent this year.
Graduates of Massachusetts public high schools performed similarly to the combined results for Massachusetts public and private schools. Massachusetts 2012 public school graduates had an average composite score of 23.8, an increase from five years ago (23.4) and similar to last year (24.0). In 2012, 43 percent of graduates of Massachusetts public high schools who were tested met all four ACT College Readiness Benchmark scores.
To learn more about the Patrick-Murray Administration's efforts to increase college and career readiness among Massachusetts students, visit http://www.doe.mass.edu/ccr/. For more information on ACT, visit www.act.org.
Related posts:
Short URL: http://www.newenglandpost.com/?p=9507

Posted by
jcashman
on Aug 29 2012. Filed under
Featured - For home page featured article
,
General
. You can follow any responses to this entry through the
RSS 2.0
. You can leave a response or trackback to this entry