Two More Connecticut Residents Tests Positive for West Nile Virus
Posted by
jcashman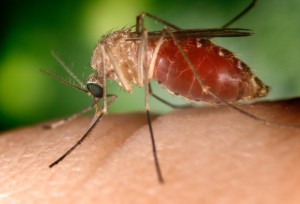 The State Mosquito Management Program today announced that two more residents have tested positive for West Nile virus (WNV) infection. These results bring the total number of human cases of WNV infection in Connecticut to four this year. The state also announced that mosquitoes trapped in Voluntown on August 13 tested positive for WNV.
The most recent human cases of West Nile virus are residents of Bridgeport and Stamford, both between the ages of 50-59. The Stamford resident became ill during the 1st week of August. The Bridgeport resident became ill during the 2nd week of July. Both were hospitalized for encephalitis.
"August is when people are usually infected with West Nile virus in Connecticut," said Dr. Jewel Mullen, Commissioner of the Department of Public Health. "While most people do not become severely ill from West Nile virus, people over the age of 50 are more likely to become ill and develop serious symptoms when infected. Everyone should take steps to prevent mosquito bites like using insect repellent, covering bare skin, and staying indoors during dusk and dawn, when mosquitoes are most active."
"Our statewide trapping and testing indicates that mosquito populations have begun to decline, but mosquitoes infected with West Nile virus continue to be detected throughout the state," said Theodore G. Andreadis, Ph.D., Chief Medical Entomologist, CAES. "We will continue to monitor mosquito populations through October."
Commissioner Mullen added that, so far this year, West Nile virus activity in the state is a couple of weeks earlier than usual but otherwise within the range of what has been identified in Connecticut over the past decade. Nationally, the 1118 cases reported thus far represent the highest number of cases reported through the third week in August since WNV was first detected in the United States. Nearly half have been reported from east Texas.
Last year, there were nine reported cases of WNV infection in Connecticut residents and infected mosquitoes identified in 30 towns. So far this season, the Connecticut Agricultural Experiment Station has identified WNV positive mosquitoes in 41 Connecticut towns.Press Release August 23, 2012 Page 2 of 2
For information on West Nile virus and what you can do to prevent getting bitten by mosquitoes, visit the Connecticut Mosquito Management Program Web site at www.ct.gov/mosquito.
###
Related posts:
Short URL: http://www.newenglandpost.com/?p=9501

Posted by
jcashman
on Aug 23 2012. Filed under
Featured - For home page featured article
,
Health
. You can follow any responses to this entry through the
RSS 2.0
. You can leave a response or trackback to this entry