22 Groups Submit New Charter School Proposals in Mass.
Posted by
jcashman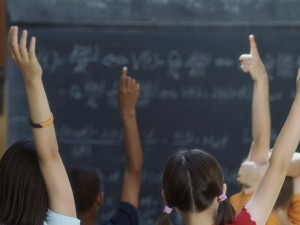 The Department of Elementary and Secondary Education has received 22 prospectuses from groups seeking to ultimately receive approval to open new charter schools in Massachusetts.
The increase in prospectuses submitted, up from seven last year, follows a decision earlier this spring by the Department to lift a moratorium on new applications for several cities, including Boston and Lawrence. Such a moratorium became necessary as the number of charter seats in those communities were nearing statutory enrollment caps. The Department now projects that at least some seats will be available in most communities over the next four years, prompting the Department to open this year's application cycle to all cities and towns.
"Charter schools provide parents and students with important public school options as they consider the educational program that best meets their needs," said Commissioner of Elementary and Secondary Education Mitchell Chester. "I look forward to reviewing these prospectuses and inviting those groups that meet our application criteria to submit final proposals."
Founding groups whose prospectuses show the most promise will be notified by mid-September and invited to submit a full application. Full applications will be due to the Department on November 7, 2012. Those final applications will then be reviewed and evaluated by Department staff and external review panelists with expertise in education, business, legal and organizational structure. Commissioner Chester will then make his recommendations to the Board of Elementary and Secondary Education, which will vote to award new charters at its February 26, 2013 regular meeting.
In January 2010, the Patrick-Murray Administration raised the charter school cap in the lowest performing school districts and made a number of changes to the charter authorizing process. The cap on district net school spending under the Achievement Gap Act is being raised from 9 percent to a maximum of 18 percent through incremental steps. The cap lift only applies to districts with academic performance in the lowest 10 percent as measured by MCAS, and applicants under the cap lift must have a proven track record of success in increasing academic attainment and commit to working with a diverse population of students. Sixteen new charters were awarded in February 2011, and an additional four were approved this past February.
For applicants that must demonstrate that they qualify as proven providers, an invitation to submit a final application is contingent on the Commissioner's granting of proven provider status. The determination of proven provider status will occur when the results of spring 2012 MCAS testing become available and prior to the submission deadline for final applications.
The new proposals for the 2012-2013 application cycle include 21 proposals to open Commonwealth charter schools and one proposal to open a Horace Mann charter school. Commonwealth charter schools are fully autonomous and operate independently of the local school district. Horace Mann charter schools are developed and operated in close cooperation with the host school district, and require approval of the local school committee. Charter schools are open to all Massachusetts students, with enrollment preference given to students in the district or region where the school is located.
The 2012-2013 proposals that were submitted for consideration are:
Commonwealth Charter School Prospectuses
District or Region
Opening Year
Grades
Proposed Maximum Enrollment
Argosy Collegiate Charter School
Fall River
2014
5-12
459
Asia Pacific Charter School
Lynnfield, Peabody, Wakefield, North Reading, Reading, Stoneham, Wilmington
2013
6-12
300
BridgeSmart Preparatory Academy Charter School
Lynn, Revere, Chelsea, Everett, Boston
2013
6-12
475
Brooke Charter School 4
Boston
2014
K-8
510
City on a Hill Charter Public School II
Boston
2013
9-12
280
City on a Hill Charter Public School New Bedford
New Bedford
2014
9-12
280
Classical Community Charter School
Longmeadow, East Longmeadow, Wilbraham, Agawam
2014
K-12
390
Community through Sustainability Charter School, CS²
Worcester
2014
7-12
240
Fenix Charter School
Lynn
2013
5-12
600
Heights Academy Charter School
Boston
2014
K-5
312
International Charter School of Brockton
Brockton
2014
K-12
1200
Match Next Charter Public School
Boston
2013
6-8
216
Phoenix Charter Academy Springfield
Springfield, Holyoke, Chicopee
2013
9-12
250
Pioneer Charter School of Science II
Saugus, Peabody, Lynn, Danvers, Salem
2013
7-12
360
Pioneer Charter School of Science III
Lowell, Dracut, Tewksbury, Billerica, Chelmsford, Tyngsborough
2014
7-12
360
Pioneer Charter School of Science IV
Woburn, Stoneham, Medford, Melrose, Wakefield, Saugus
2014
7-12
360
Somerville Progressive Charter School
Somerville
2013
K-8
520
Springfield Collegiate Charter School
Springfield
2014
K-8
456
Springfield Preparatory Charter School
Springfield
2014
K-12
1200
The New Bedford Cheironeum, A Commonwealth Charter School
New Bedford
2013
6-12
756
YouthBuild Charter Academy
Lawrence
2013
9-12
173
| | | | | |
| --- | --- | --- | --- | --- |
| Horace Mann Charter School Prospectuses | District or Region | Opening Year | Grades | Proposed Maximum Enrollment |
| UP Academy Charter School of Boston II | Boston | 2013 | K1-5 or K1-8 | 400 |
For more information on charter schools, visit http://www.doe.mass.edu/charter/.
Related posts:
Short URL: http://www.newenglandpost.com/?p=9321

Posted by
jcashman
on Jul 26 2012. Filed under
Featured - For home page featured article
,
General
. You can follow any responses to this entry through the
RSS 2.0
. You can leave a response or trackback to this entry