Dated Pipes Leads to Wasted Water and Gas in New England
Posted by
jcashman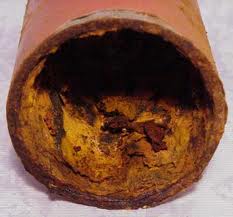 Throughout the country old pipes cause residents trouble on a seemingly continual basis. Between freezing, cracking, rotting and leaching these aging systems continue to perpetuate waste. This problem has run rampant in most of New England. Pipes fashioned out of wood and secured with copper bands cost homeowners in many historic communities. Some of these pipes were installed over a century ago and lead to wasted water and gas.
The American Society of Civil Engineers (ASCE) gave the U.S. a "D-" on its infrastructure report card for drinking water. ASCE reported this score because leaking pipes lose an estimated seven billion gallons of water each day.
A recent Boston University study noted that gas leaks increase greenhouse gas emissions and account for about $2 million each year in lost revenue in the U.S.
"Old systems are much more likely to have leaks, perpetuating wasted resources and money," said Bill Palmer, CEO of American Leak Detection. "Dated systems don't just affect utilities, but cause waste and inefficiency in our homes. Homeowners who find and stop leaks can save up to 25% on their monthly utility bills and protect their homes from future damage."
On average, leaks can account for 10,000 gallons of water wasted in one home every year; this figure is much higher in New England. Gas company records also indicate that gas waste is a serious problem in the region due to old pipes and low temperatures.
Household leaks, sometimes hidden, can be located in a variety of ways. Simple tests can help you check for leaks in your home. To check for water leaks read your water meter and write down the number on the face of the dial. Make sure that no one in your home uses water for 30 minutes; check the number on your water meter again. If the number has changed, you have a leak. For other easy tests visit http://www.americanleakdetection.com.
Many non-invasive technologies, like infrared and ultrasound equipment offered by American Leak Detection, can spot a hidden leak, gas or water, in your home without the need to turn your home into a construction zone. American Leak Detection's hi-tech equipment and extensive training allows them to find a leak with incredible precision, minimizing or eliminating any destruction during repair. Finding and repairing leaks can help conserve precious resources, reduce your monthly utility bills and prevent future harm or damage.
American Leak Detection offers leak detection without destruction to New England residents and businesses. Annual leak inspections are recommended for aging systems. Many insurance providers will discount insurance coverage to homeowners if they take action on a leak audit. Leak audits are a quick and easy way to save you money.
For more information or to schedule an appointment with a leak detection specialist, call 203-404-8259, or toll-free 866-510-5325. For more information about American Leak Detection, visit www.americanleakdetection.com.
Related posts:
Short URL: http://www.newenglandpost.com/?p=8824

Posted by
jcashman
on Jan 28 2012. Filed under
Featured - For home page featured article
,
General
. You can follow any responses to this entry through the
RSS 2.0
. You can leave a response or trackback to this entry