Boston's Tech Scene Takes to the Dance Floor: Inside the Dave Balter Tech Prom
Posted by
erik devaney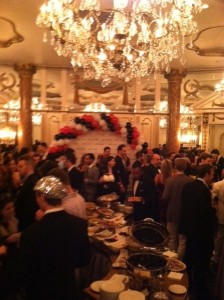 "The spirit of the Boston tech scene is alive and well," said Dave Balter in his address to the crowd. And judging by the uproarious atmosphere of the Dave Balter Tech Prom – and the outlandish wardrobe choices that were featured there – this statement couldn't be truer.
Thursday night's Tech Prom at the Fairmont Copley Plaza brought together a wide variety of prominent Boston techies and startup superstars. From Rails developers to corporate recruiters, CEOs to consultants, the 80s-inspired event highlighted the festive side of Boston's tech and business community.
Watching the attendees pour
in to the Fairmont was – at times – like watching a Halloween parade. There were wigs, kilts, orange tuxedos, leopard prints and zebra stripes galore. While many brought their own sunglasses to keep with the Tech Prom's theme of "Sunglasses at Night," others sported the free shades that were provided by GSN.
Prom-goers also helped themselves to the flasks and shot glasses that were provided by Bullhorn and BzzAgent respectively.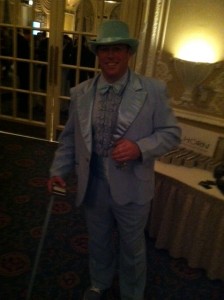 I couldn't help but say hello to the man in the baby blue tux and matching top hat who was perusing the flask and shot glass giveaway table. Turns out, he – Jason – was a Bullhorn employee. "This is awesome!" he said. "I had no idea we were giving away flasks."
Earlier in the night, Sean from Help Scout handed me a form so I could enter to win a $100 Apple Store gift card. In order to qualify, I had to answer an 80s-theme question and then email Help Scout the answer. My question: "What was the name of Michael Knight's car on the TV show, Knight Rider?"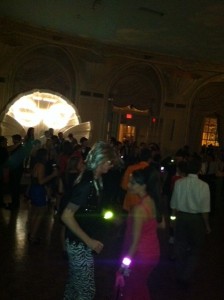 While there were several bars setup around the venue, waiting in line for a beverage at the Tech Prom was still a considerably time-consuming process. Perhaps this was all part of Dave Balter's master plan, however, as the lines encouraged interaction and informal networking.
Amongst the most interesting people I bumped into was a Keurig employee who is designing the next generation of the company's popular K-Cup brewers. Unfortunately, the work he's doing is top-secret, so he couldn't reveal any details.
The man himself, Dave Balter, was an incredibly upbeat and amicable host. The BzzAgent founder and CEO mingled with guests throughout the night, sporting a tuxedo and cane. He was even kind enough to pose for a photo (I encouraged him to show off some dance moves for the camera).
When the time came to announce the prom king and queen, Balter at first asked nicely for the guests to quiet down; but later resorted to telling everyone to "Shut up!" His speech that followed highlighted his motivations for hosting the Tech Prom.
"My name is Dave Balter and I was desperate for a second shot at the prom. Tonight is that night," he said. "Tonight is the second shot at the prom for all of us. For me it will be different. Tonight I will not get busted for drinking schnapps in the bathroom."
Balter continued, "Tonight I will not get uninvited to the after party and tonight I will not get beaten up by the jocks. Tonight, I will be getting lucky."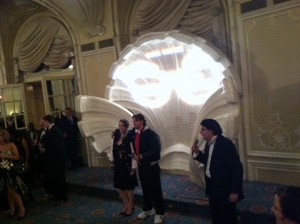 When the Tech Prom's king and queen were announced, each was presented with a custom, $3,000 ring from Gemvara. The night's lucky winners: Jeremy Weiskotten, from Terrible Labs; and Rebecca Corliss, from HubSpot.
One of the greatest parts of the Dave Balter Tech Prom, as awkward as this may sound, was leaving. Instead of having to catch a cab or scramble for the T, the Uber town car service provided guests – myself included – with a free ride home.
Looking back on Tech Prom, I am glad to have been a part of such an exciting and enjoyable event. Now, only one question remains: will Dave Balter host another Tech Prom next year?
New England Post will let you know!
Related posts:
Short URL: http://www.newenglandpost.com/?p=6206

Posted by
erik devaney
on Oct 21 2011. Filed under
Featured - For home page featured article
,
Lifestyle
. You can follow any responses to this entry through the
RSS 2.0
. You can leave a response or trackback to this entry