Award-Winning Startup, BuildingLayer, Can Help You Navigate the Most Perplexing Indoor Spaces
Posted by
Soren Sorensen
The Rhode Island- and Kentucky-based startup, BulidingLayer, recently won the People's Choice Award  at the VatorSplash startup pitch contest in San Francisco. BuildingLayer was one of 11 startups featured at Betaspring's 2011 Demo Day in Providence last month.
CEO Nick Such and his three co-founders created BuildingLayer by combining the "crowdsourcing" spirit of Wikipedia with the indispensability of Google Maps, all in an effort to solve a problem a lot of people don't realize exists.
Until it happens to them.
"We spend 80 percent of our lives inside buildings," Mr. Such told New England Post. "People get lost in buildings all the time."
Pointing to preliminary research that amazed Mr. Such and his team, he likened the issue to an epidemic; an epidemic of "people who are lost in hospitals, airports and college campuses."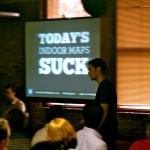 The reason for this epidemic, as Mr. Such put it in his presentation at Betaspring last month: "Today's indoor maps suck."
The problem is clearly laid out in the numerous examples posted to a website Mr. Such and his cofounders started called Lost In A Building.  Posts range from the humorous—"No, random hospital employee, I'm not lost.  I enjoy wandering stupidly around buildings that smell like death."—to the exasperated—"I just got lost in JC Penney and almost had a panic attack.  This is why I don't come to the mall alone."
This difficulty isn't confined to hospitals and malls, as Mr. Such and his team discovered for themselves earlier this year.  When the four Kentucky twenty-somethings first arrived in Providence, they got lost in the building that houses Betaspring's headquarters.
That's when they realized that the problem is indeed a real one.
BuildingLayer, Mr. Such said, is the solution.  In the not-too-distant future, he told New England Post, a person will be able to walk into a building, view an electronic map on an interactive touch-screen display and even get directions delivered wirelessly to his or her smartphone.
While hospitals, airports and college campuses all represent potential markets for BuildingLayer, Nick Such predicts that "crowdsourcing," or relying on the participation mapmaking hobbyists, will soon produce maps of all kinds of indoor spaces.
One might not appreciate the number of volunteer cartographers in the world, but they're out there. And Mr. Such counts himself among them.
Maps of smaller structures — buildings without the money or space for an on-site display — will be available online like the service offered by Google Maps.
"A lot of buildings do have maps," Mr. Such told New England Post and added, "It's just that some are on paper, they contain inconsistent levels of detail and very frequently they are out of date."
Mr. Such said that construction projects and businesses moving and changing names all contribute to the confusion that wastes time and money on a daily basis.
"What we are really building," Mr. such emphasized, "is a means of creating and keeping map content updated."
BuildingLayer co-founder, Brian Raney, told New England Post that he expects a version of the software to be released in the next month or so.
"We'll have the first version of the tool available," Raney said, "for users to start to play around with, to build and create these indoor maps."
BuildingLayer is currently looking for investors to help make the experience of being lost in a building a thing of the past.
Related posts:
Short URL: http://www.newenglandpost.com/?p=5682

Posted by
Soren Sorensen
on Oct 13 2011. Filed under
Featured - For home page featured article
,
Technology
. You can follow any responses to this entry through the
RSS 2.0
. You can leave a response or trackback to this entry