Maine Voter Registration Law To Be Decided By Maine Voters
Posted by
kate kastelein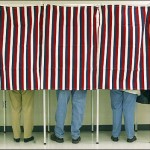 The repeal of a 38 year old law allowing Mainers to register to vote on Election Day was put into effect on June 21, 2011 by Maine Governor Paul LePage, and has been cloaked in controversy ever since. Within hours, Maine's League of Women Voters, part of the
Protect Maine Votes
coalition, which also includes the NAACP and Maine Civil Liberties Union, filed paperwork with Secretary of State for a people's veto.
Requiring voter registration prior to election day is nothing new, 43 states already have similar laws in place.  Proponents of the Maine bill cited preventing voter fraud and easing stress of , in many towns, volunteer election clerks on Election Day. Maine boasts a very high voter turnout, and according to the Portland Press Herald, " in 2008, nearly 60,000 voters registered on Election Day." The opposition sites the large number of residents registering to vote as a boon to democracy.
In an interview with New England Post, Annette Farrin, Town Clerk of South Bristol said, "We've never had a problem with Election Day registration. Sure, we're a small town, but it only takes a minute. They should have left it alone." Numerous others polled shared the sentiment with many simply stating, "If it ain't broke, don't fix it." when asked about the change.
Claire Brassil, an artist from Newcastle said, "I think Election Day registration is a good thing. People are poor planners, they wake up one morning it's Election Day and want to participate in the process."
After filing the paperwork with the Secretary of State, Protect Maine Voters had 90 days to collect the 58,000 signatures required to get people's veto on the ballot. In 30 days the group had collected and submitted 80,000 signatures, 70,000 of which were verified, ensuring a spot on the November ballot for the repeal.
Last week, after extensive investigation into widespread voter fraud, one of the points argued in favor of repealing the original bill, Secretary of State Summers revealed that only one case of potential fraud was discovered. In his speech at  Maine Heritage Policy Center in Portland, Summers maintained that fraud was still possible and that the Maine voting system needed to change. He also pointed out that during the investigation, an 84% error rate was discovered on voter registration cards, mostly due to incomplete information.
Polls released by both sides of the issue show a Maine divided. In September a poll by the conservative Maine Heritage Policy center released results of an automated poll to the Portland Press Herald where 53% percent of respondents favored the ban on same day registration, while 47% did not.  A few days later, Protect Maine Votes released their own poll results, also to the Portland Press Herald,  with nearly exactly opposite results "56% respondents said they would vote "to reject the new law that requires new voters to register to vote at least two business days prior to an election." About 43 percent said they would not vote to reject the new law."
People who gathered signatures for the people's veto tell a different story, though. Lee Roberts, an Alna resident who solicited signatures for the veto said, "I collected the easiest 70-ish signatures in my life with that petition. In 20 minutes at the farmers market and two hours in front of the Wiscasset Post Office, people practically grabbed the pen out of my hand."
With both sides of the issue claiming they're in the lead according to polls, it is perhaps fitting that the voting debate will be put to rest by Maine voters themselves on November 8th.
Related posts:
Short URL: http://www.newenglandpost.com/?p=4510
Posted by
kate kastelein
on Sep 29 2011. Filed under
Politics
. You can follow any responses to this entry through the
RSS 2.0
. You can leave a response or trackback to this entry