Should the Government Forgive Student Loan Debt? College Grads Say Yes; Economists Say No
Posted by
erik devaney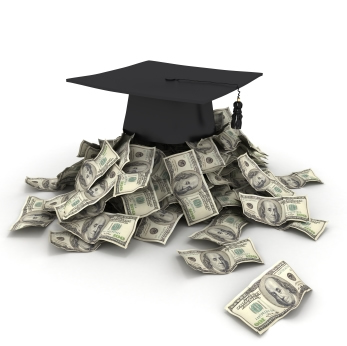 Imagine waking up tomorrow morning, logging into your student loan website and seeing "$0.00" under the "principal balance" column. I would likely pinch myself in disbelief and assume that it was all just a dream: a wildly fantastic, impossible dream.
However, there is currently a movement in the works that aims to make this dream a reality. Spearheading the movement is U.S. Congressman, Hansen Clarke (D-MI), who is garnering support for his "H. Res 365" bill. This bill would provide student loan debt forgiveness as a means of economic stimulus.
"If we cut student loan debt that's going to create more jobs and that will provide more financial security," Clarke recently stated. According to Clarke, student loan debt is "the true debt that is burdening American families. If we cut student loan debt, we'll have a freer, more prosperous country."
Over 300,000 people have showed their support for H. Res 365 by signing an online petition at SignOn.org. The creator of the petition, Robert Applebaum, also created a Facebook page for the movement: President Obama: Forgive all Student Loan Debt to Stimulate the Economy. College graduates have been using this page as a platform for voicing their opinions.
"I agree the bailout should start with the common folk here instead of the big guys! I have been in deferment for 4 years, I have to decide between a house payment or a student loan. What would you choose?" commented Kim Cleary-Bieker, who graduated from UIC in 1994 and who got her Masters at Saint Xavier University in 2006. "I'm a teacher…my small income is pretty much wiped out after my student loan payments," said Rosalie George Rodriguez, who graduated from UTSA in 2005.
But despite the growing support for forgiving student loan debt, Justin Wolfers, who writes for the Freakonomics website, argues that this plan does not make economic sense. Actually, he's a bit more blunt than that, calling it the "worst idea ever" and noting, "I bet that the proponents can't find a single economist to support this idiotic idea."
Wolfers gives several reasons for why forgiving student loan debt is idiotic and would do little to stimulate the economy. For example, he argues that college grads typically have high incomes: so why should the government eliminate their debts and not the debts of high school dropouts, who are more in need of the money? He also points out that if you want to simulate the economy, "you get more bang-for-your-buck if you give extra dollars to folks who are most likely to spend each dollar." If college grads got those extra dollars, "Much of it would go into the bank."
From an emotional standpoint, I will still keep my fingers-crossed and hope that one day I will wake up to find that my student loans have been wiped away. But from an economic standpoint, I understand that Wolfers is right in his assessment. What do you think? Let New England Post know, leave a comment!
Related posts:
Short URL: http://www.newenglandpost.com/?p=4232

Posted by
erik devaney
on Sep 21 2011. Filed under
Politics
,
Top Stories
. You can follow any responses to this entry through the
RSS 2.0
. You can leave a response or trackback to this entry