Rhode Island Same-Sex Marriage Supporters Vow to Continue Fight for Equality
Posted by
Soren Sorensen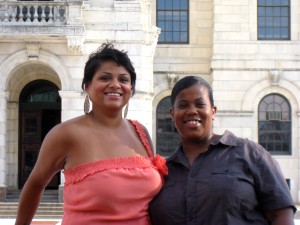 Marriage Equality Rhode Island (MERI) is gearing up for yet another fight to make the dream of same-sex marriage a reality in 2012.
Ray Sullivan of MERI told the New England Post, "The marriage equality legislation itself has been introduced in one form or another every year for approximately 15 years and we expect the bill to be introduced in both the House and the Senate next year as well."
Out of the six states in New England, four—Connecticut, Massachusetts, New Hampshire and Vermont—have legal same-sex marriage.  Maine and Rhode Island do not.
The failure by the Rhode Island State Senate to pass same-sex marriage legislation in July, opting instead for a civil unions compromise, stunned gay rights advocates in a state literally surrounded by others—CT and MA—that have allowed legal same-sex marriage for years.
To make matters worse, for supporters of same-sex marriage, New York State passed its same-sex marriage bill just days before Rhode Island's civil unions bill passed.
"I am embarrassed to say that Rhode Island doesn't have full marriage equality," Rhode Island governor Lincoln Chafee told NPR's Michel Martin last month.  Evoking Roger Williams and "the greatest liberties ever granted to any colony in the world," Governor Chafee reminded Martin that, in Rhode Island, "Change comes a little more slowly."
The governor cited the state's large number of elderly citizens and Roman Catholics as being the root cause of this slow change and "half a loaf civil unions" compromise.
"The governor should not have signed the civil unions bill and we were adamant in communicating that to him personally and to his staff," Sullivan said and added," Make no mistake about it.  This bill proactively allows private and religiously affiliated organizations to single out and discriminate against gay and lesbian couples in loving, committed relationships."
Some same-sex marriage supporters in the area thought the New York bill's passage would send a wave of support east into the Ocean State.
"I think complacency carries a huge part of the blame in the failure of same-sex marriage in Rhode Island," Veronica Cintron told the New England Post.  "I do not think the gay community called, kicked or screamed as much as we should have."
Cintron, who lives and works with her partner, Providence club promoter Blue Azul, added, "We attended a couple of the vigils and marches held downtown and the one thing I noticed was that with each event the number of attendees decreased."
Azul said that, until Veronica explained some of the issues involved, even she was ignorant of the differences between marriage and civil unions.  "We settled for less," said Azul and added, "Equality shouldn't be up for negotiation."
Dr. Vincent Bohlinger, an English professor at Rhode Island College, said that, in order for same-sex marriage to pass in Rhode Island, advocates need to follow New York's lead.  "The example of New York shows how much effort and work is needed by our leaders," he said adding, "It also shows how much money and orchestrated momentum is probably needed."
"There was a huge campaign there, with an elaborate dog-and-pony show featuring lots of NY celebrities who made video statements in support of marriage equality.  There was nothing like that here."
Dr. Bohlinger, who married his husband in Massachusetts in 2009, is cautiously optimistic: "I feel fortunate to live in a state where I think same-sex marriage will be achieved soon."
Ray Sullivan and MERI are already preparing for the 2012 elections.
"We're going to be involved in some races probably against some long-time incumbents, some folks who have grown roots up [on Capitol Hill] and who have demonstrated a propensity for pursuing an anti-equality agenda."
"We're going to put our resources where we believe we can be the most effective so that we can change the makeup of the general assembly to reflect the broader attitude of the public at large which supports marriage equality."
Emails to the offices of RI House Speaker Gordon Fox and RI Senate President Teresa Paiva Weed were not immediately returned.  The House and Senate are both currently in recess.
-Soren Sorensen
Related posts:
Short URL: http://www.newenglandpost.com/?p=1728

Posted by
Soren Sorensen
on Aug 23 2011. Filed under
Politics
. You can follow any responses to this entry through the
RSS 2.0
. You can leave a response or trackback to this entry