City Serves Occupy Providence Protesters Eviction Notices as Freezing Temperatures Begin to Take Their Toll
Posted by
erik devaney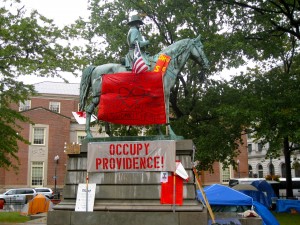 Providence Public Safety Commissioner Steven M. Paré began personally handing out eviction notices at Burnside Park on Thursday afternoon. Occupy Providence protesters have been camping at the park without a permit since October 15th.
The notices indicate that the protesters must leave within 72 hours and specify that they are violating ordinances by staying overnight (since the park closes at 9 p.m.).
According to Paré, however, police won't physically remove the Occupy Providence protesters even after their 72 hours' notice to vacate expires on Sunday.
Instead, they will seek to force them out "peacefully and civilly" through the court system, which is a process that could take several weeks.
Protesters vowed as a group to stay, though some have said they will leave if evicted. A core group said it will remain through the winter months — if not in the park, then somewhere else.
Rhode Island's capital has an average low temperature in the 20s from December through February and recorded nearly 3½ feet of snow last year. Many of the more than 100 tents are not built to withstand harsh conditions.
With the temperature dropping, Occupy Providence protesters are stockpiling donated coats, blankets and scarves, trying to secure cots and military-grade tents, and getting survival tips from the homeless people who have joined their encampments.
"Everyone's been calling it our Valley Forge moment," said Michael McCarthy, a former Navy medic in Providence. "Everybody thought that George Washington couldn't possibly survive in the Northeast."
In Boston, the Occupy movement's 300 overnight participants could face some of the most brutal weather of any city with a major encampment.
As New England Post reported in an earlier story, a group of volunteers participating in the Boston protest has begun brainstorming ways to weatherize the camp. Proposed ideas include keeping tents off of the ground with pallets and supplying protesters with polypropylene, thermal, and Gore-Tex clothing.
Copyright 2011 The Associated Press.
(With additional information from New England Post)
Related posts:
Short URL: http://www.newenglandpost.com/?p=6789

Posted by
erik devaney
on Oct 28 2011. Filed under
Featured - For home page featured article
,
General
. You can follow any responses to this entry through the
RSS 2.0
. You can leave a response or trackback to this entry