Former Vt. Governor Continues Wind Criticism
Posted by
jcashman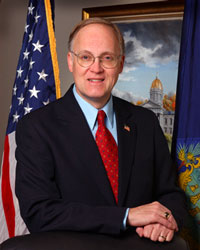 MONTPELIER, Vt. (AP) — Former Gov. Jim Douglas is continuing to speak out against large-scale wind power development on Vermont's mountain ridges.
The Republican tells Vermont Public Radio he doesn't want to criticize his Democratic successor, Gov. Peter Shumlin, but he's clearly at odds with Shumlin on the subject of utility scale wind power development like Green Mountain Power's Kingdom Community Wind project in Lowell.
Douglas has long maintained that Vermont is known for its unspoiled mountain vistas. He says building 400-foot-plus wind turbines on mountaintops isn't a good trade-off because the turbines don't generate enough energy to justify themselves.
Shumlin has been more supportive of large-scale wind development, including the Lowell project.
Copyright 2011 The Associated Press.
Related posts:
Short URL: http://www.newenglandpost.com/?p=1609